Most of Hong Kong people choose to visit the big cities in Japan for travel and a few of them may go to suburbs or go skiing. If you want to explore the unconventional places that still not too many tourist will visit? Follow the Japanese to Japanese archipelago, in addition to the beautiful sceneries; you can also have an intimate contact with those cute little animals. This will be one of the most memorial experiences in your lifetime.
1)Okunoshima also known as The rabbit Island

Source: entermeus.com

This small island is located in Hiroshima. Many rabbits inhibit on the island. There rabbits are very laid back. At anytime they enjoy sunbathe, sleeping or waiting for tourists to feed them. They are so used to the tourist who go there to visit them and they never afraid of the camera. Accordingly to the report, there are around 700 rabbits on the island. If you are rabbit lover, you simply just holding the food, then you will be the superstar of those rabbits.
2)Tashirojima – the famous CAT Island

Source: happi.com.tw

Tashirojima is a famous cat island, which is located in Miyagi. Every year, Tashirojima attracts thousands of cat slaves to go to this holy land to find their master. Cats are so cherished in this island because the Islander sees cats as God who protects the fishermen. It is said there was a fisherman buried a cat that died innocently. After that, this fisherman always had good harvest. So the Islanders built a cat shrine to enshrine the cats. In all, this island is the cat heaven that cat lovers have to come once.

source: japantg.sakura.ne.jp
3)Aosima – the second cat island after Tashirojima

Source: naver.vipperr.net

Aosima is located in Ehime, there are only 16 islanders but have over 150 cats on the island. This island is gathering popularity in Japan – the cat loving country. Aosima is also called Cat's paradise. However, the islanders are all older people (young generations left for living), when you visit there please do not disturb the residents there. The island cannot be accessed easily. There are only two regular ships a day from Nagahama Port of Ozu city to Aosima, and each ship can only carry 34 people. And the ship schedule may change depends on the weather and the sea conditions. If you want to visit Aosima, remember to do some study first.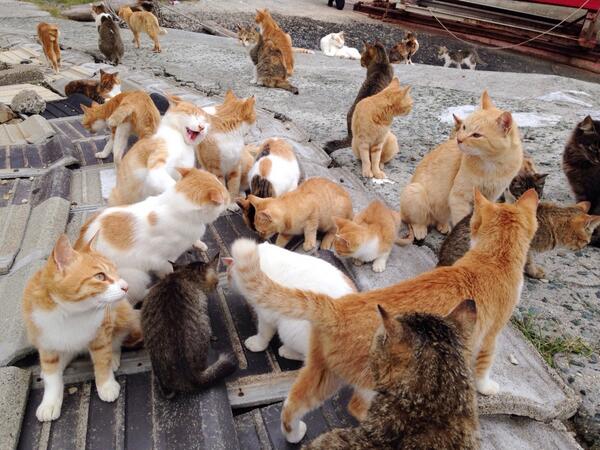 Source: naver.matome.jp
4)Nozaki Island – Nagasaki's desert island, adventure on this miracle island

Source: kinarino.jp

The size of Nozaki Island is around 7.36 square Kilometers. It is not a small island. In the northern part of the island there is a small native forest remains.
There are about 400 deer inhabiting on the island. The entire island is at the uninhabited condition. But the natural scenery and the remnant of old buildings give the illusion that you are in the RPG game. Heard Japanese call it- miracle island, a little island being forgotten by the Kyushu people.

Source: nozakijima.jp

Nozaki Island has a very famous church, Nokubi Church, which is on the tentative list of UNESCO World Heritage Site. This church stands on this desert island gives a very mystical feeling of the island.

Source: kinarino.jp
5)Mikura Island – swimming in the ocean with dolphins

Source: Ocean-navi.com

In Japan, even in the world, there are not too many places that you can swim with the wild dolphins in the ocean. Mikura Island is one of them that you can do it.
Mikura Isalnd is 200km from Tokyo. This island has the native forests. It has the beautiful natural sceneries. It is said you can hear the lovely dolphin voice once you have jumped into the sea. People who like diving should not miss this place. If you depart from Tokyo, you can take the boat at Takeshiba. There are 8 accommodations on the island. You are prohibited to get on the island if you didn't make the reservation in advance. If you are interested to visit Mikura Island, please do an advance booking.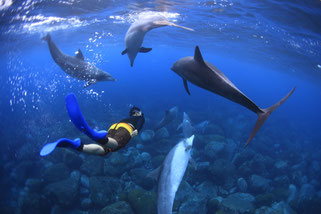 Source: ds-base.jp
Need stable WiFI connection when travel in Japan? Want to check out the map and train timetable at anytime? Ninja WiFi is your friend!
Softbank's latest model Hybrid 4G LTE, unlimited broadband data, 187Mbps speedy network connection, unbeatable speed, connecting up to 10 devices simultaneously is the best application to share with companion and friends. National-wide coverage, stable connection, Pick up at major airports or get by couriers. It's simple and convenient. No deposit, No cheating. Now only cost HKD45 per day. Come and visitNIINJA WiFi to learn more details. After arriving the airport, only takes 1 minute to pick up the WiFi egg. Then you can travel around Japan right the way. Service in year-round! Super fast and convenient.