The artificial reservoirs in Japan are the beautiful attractions too. The reservoir is formed by building a dam near the mid-stream of the river, it is usually used to store water for agriculture usage, Today this post will introduce you to the top 5 of 《Japan's 100 Best Reservoirs》,
1)Mishakaike Pond 御射鹿池
(Source: matome.naver.jp)

Address: Tateshina, Kitayama, Chino, Nagano Prefecture
Transport: Suwa IC approximately 45 minutes (recommended travel by car)
Official Website http://www.nagano-tabi.net/modules/enjoy/enjoy_14004002.html
Located in the Nagano Prefecture, Mishakaike Pond served as the model for the Japanese artist Kaii Higashiyama's famous work "Vibrant Green" in 1972. Made popular once again by its use as a scenic setting for Japanese television commercials! It is perfect for tourist who love to photograph, which also includes the beautiful reflection of the pond in all year round seasons!
(Source:find-travel.jp)

(Source: tokyo-hotaru.com)
2)Sayama Pond 狭山池
(Source:blog.goo.ne)

Address: Osakasayama大字岩室
Transport: About 5 minutes walk from Osakasayama Station
Official Website:http://www.city.osakasayama.osaka.jp/sosiki/seisakuchoseishitsu/kikakugurupu/sayamaikeguide.html
Sayama Pond is one of the oldest artificial reservoir in Japan. It was built 1400 years ago, it is recorded in the historical novel "Records of Ancient Matters (Kojiki)" and "The Chronicles of Japan (Nihon Shoki)". It was officially list as a Japanese historical monuments in March 2015! The walk from the pond to Amano Street was listed in "The 500 most beautiful streets in Japan". During spring, it is covered with the beauty of cherry blossoms. To those who like to talk a walk and enjoy the sceneryyou must not miss out on this attraction in Osaka!

(Source: instagram.com)
3)Seninzuka Jogaike Pond 千人塚城ヶ池

(Source: nagano-tabi.net)
Address: Iijima-machi, Kamiina District, Nagano Prefecture Transport: Matsukawa IC, approximately 15 minutes drive by car Official Website: http://www.town.iijima.lg.jp/index.php?ci=12636
SeninzukaJogaike Pond is a famous attractionin Nagano to watch the cherry blossom. The most symbolic view is where it reflects the beauty of the Central Alps National Park! During spring, it is covered with cherry blossoms, in winter, you can enjoy the view of the Central Alps reflected on the pond. The pond is a favourite spot for those who love fishing!
4)Tsugarufujimi Lake(津軽富士見湖)

(Source: medetai-tsuruta.jp)
Address: Mawarizeki, Tsurata, Kitatsugaru District, Aomori Prefecture Transport: Drive from Mutsu Tsuruta / Taxi ride for about 10 minutes Official Website http://www.medetai-tsuruta.jp/web_magazine/legend/fujimilake.html
In the absence of wind, the lake is like a mirror, reflecting Mount Iwaki and the clear blue sky. Located there is the 300 meters long "Japan's oldest wooden bridge" which is known as 「鶴の舞橋」。It is close on winter from Januaryto March and open other times of the year.

(Source: abcphoto.exbolg.jp)
5)Floating Island 浮島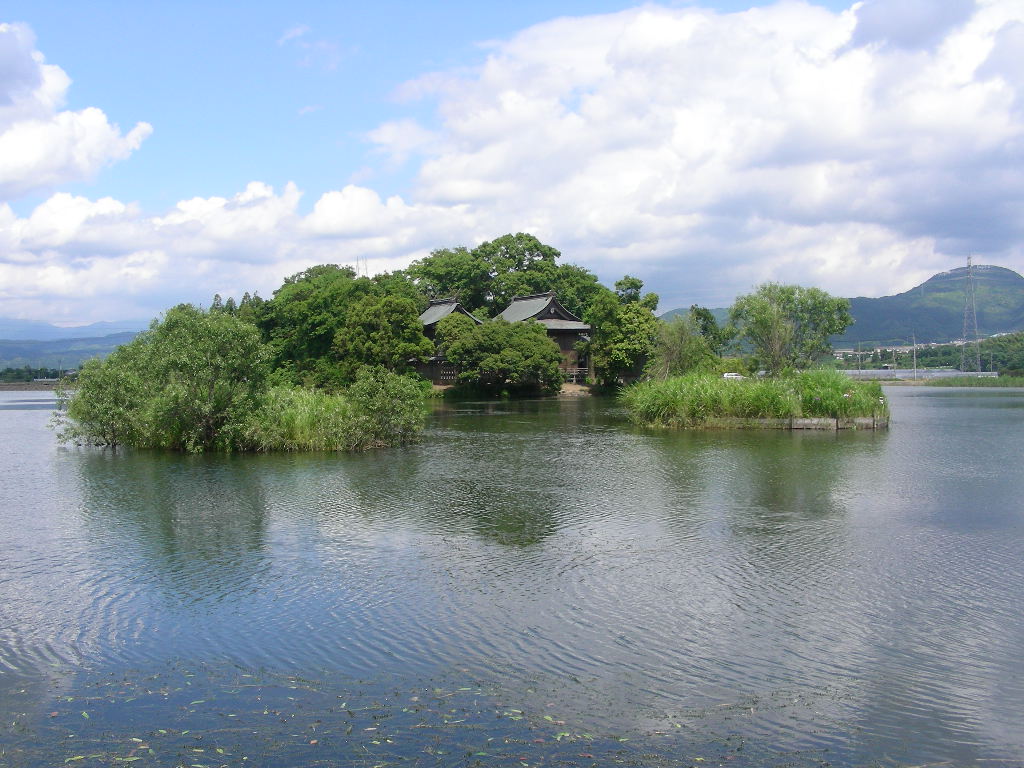 (Source: messeid.exblog.jp)
Address: Cho Idera 2828, Kamimashiki District, Kumamoto Prefecture Transport: Drive from Kengummachi Station for about 10 minutes Official:http://www.ukishimajinja.com/
Speaking of Kumamoto everyone will think of its super-cute mascot Kumamoto bear. The home of Kumamoto bear floating island was not only listed in "Japan's 100 Best Reservoir", as early as March 1985, it was listed by the Environment Agency of Japan (now the Ministry of the Environment) as the 《"100 Most Famous Japanese Lakes".》. It was selected based on thecriteria that it "preserved the good condition", "consistent water quality preservation activities by local residents" and "delicious water which is drinkable". One can imagine how clear the water here is now! In the middle of the pool, there is a famous shrine which known as the "Floating Island shrine". You must not miss out this lake when you are visiting Kyushu!
(Source: pixabay.com)