Speaking of Tokyo, the first impression is alwaysshopping! Tokyo is a shopping heaven; it is equipped with large scale department stores and shopping districts. Shinjuku, Shibuya, Harajuku, Ebisu, these are well-known places amongst shopaholics! If you are tired of shopping, did you know that you can get some rest at the hidden sky gardens? Today I will introduce you to the local favorite sky garden!

1)

おもはらの

森 (Harajuku 原宿)

Plaza Omohara, Harajuku, Meijijingu-Mae 4-30-3, Shibuya-ku, Tokyo
Operating hours:8:30~23:00
URL: http://omohara.tokyu-plaza.com/about/

Source: sumau.com
When you are shopping in Harajuku, besides the famous Takeshita Street, there is a unique department store too –Plaza Omohara (東急プラザ表参道原宿! Besides the latest clothing store, there is a little forest on the 6th floor, it is about 800 square meter. It is designed by famous architect Nakamura Takuji. There is an indoor Starbucks and the outdoor space is filled with greens!


Source: kita-colle.com
You can relax in city all year round; it is a good place to heal your problems! The architect picked many designers unique benches, if you are tired of shopping, maybe you would want to take a rest in this sky garden!
2

)

Q-COURT

(Shibuya新宿)

3-30-13 新宿マルイ本館, Shibuya, Tokyo
Opening hours:11:00~20:00
URL: http://www.0101.co.jp/earthsmileproject/life
It opened in 2009, located in the Shinjuku Main Building (新宿丸井O1O1本館). The English-style sky garden is divided into four mini courtyards, it is filled with all kinds of plants and a rose park.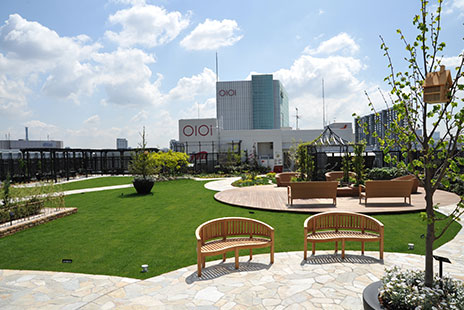 Source: manatopi.u-can.co.jp
It is the best place to watch the sunset and good place for pictures after finishing with your shopping!
3)

KITTE

ガーデン(Marunouchi – 丸の内)

Marunouchi 丸の内2-7-2, Chiyoda, Tokyo2-7-2
Opening hours:11:00~23:00   (日・祝は~22:00、祝前日は~23:00)



Source: tokyoevent.info

KITTE6 It is located on the 6th floor in KITTE building. It is a 1500 square meters open space sky garden. You can watch Tokyo Station, Marunouchi Mall, Shinkansen, Yaesu, and other building from here.



Source: yakei-kabegami.com

During the night, you can watch the night view of the red brick Tokyo JR Station, it is a good dating place for those who love the night view!

Source: banq.jp
4

) Meguro Sky Garden (Ikejiri – 池尻)

Meguro Bridge 1-9-2, Tokyo1-9-2 
Opening Hours: : 7:00~21:00
URL: http://www.city.meguro.tokyo.jp/shisetsu/shisetsu/koen/tenku.html

 

Source: walkerplus.com
It is the first garden which was built on the major expressway in Japan! During good weather, you can watch Mount Fuji from here! It is a 7000 square meter sky garden; it is a modern Japanese-style Garden which has a sloping roof with an overall height of 24 meters. It utilizes migratory a courtyard design, in each season, it is planted with different seasonal plants, you can experience four seasons in the park! It is really an urban oasis in a busy city!
 
Source: guide.travel.co.jp
5

)Ebisu Green Garden エビスグリーンガーデン(Ebisu 恵比寿)



Ebisuminami 1-5-5 アトレEbisu Rooftop, Shibuya-ku, Tokyo
Opening Hours
[April~September] 10:00~19:00 [March~October] 10:00~18:00 [November~February] 10:00~17:00

Source: ooedo.living.jp

Most people are not aware of the sky garden on the 8th floor in the JR Ebisu Station. It is a small Hanada! You can enjoy a cooling walk on the wooden trail, flowers and green grass are planted on both sides of the walking trail, it feels like summer here. Unlike any other sky garden, it is not surrounded by high-rise building, many locals love picnicking here too!

Source: matome.naver.jp