Many people know that Harajuku is the shopping heaven for many trendy teenagers, even the foreign tourists have heard of the term "Harajuku Fashion".

Now, let us watching this video – Kawaii Harajuku! Sing Along Japan Guide first! (Source:http://www.youtube.com/watch?v=UnwzTEYhIl4)

Last time, I have introduced the Omotesando Station, which even the Tokyo Subway advertises it. You can deliberate that Harajuku is a MUST place to go in Tokyo!
The shopping place in Harajuku is not limited to Takeshita and Omotesand.
Let us walk along the alley hidden in the main streets and check out the really fashion stores with full of personality at Cat Street!

Address: 4 Chome Jingūmae, Shibuya-ku, Tokyo
Access: 3-minutes' walk from Tokyo metro Meiji-jingumae (Harajuku) Station (C03, F15) Exit No. 5 Harajuku

Cat Street is a pedestrian street from Tokyo Shibuya to Harajuku. Specifically, the starting point is Miyashita Park at Meiji Road, extending to the surrounding to Shibuya-ku Mental and Physical Disability Welfare Center.
You can find many delicate Japanese grocery stores, chic boutiques, fine dining restaurants and cozy cafes in Cat Street, it can be regarded as the most remarkable street in Harajuku area. However, since Cat Street is not located at the main street, it is located at the side street or corner instead, it is easily neglected by tourists! If you want to know more about Cat Street, you can check the following URL to see if there is any shop you like! http://harajuku.press.jpn.com.t.kc.hp.transer.com/spot/cat-st/

But, today, what I want to introduce the most is the 5 hottest and most popular cafe in Cat Street!

After busy shopping, why not come here and have a rest!
(Source:cafe-magazine.jp)
Address: Tokyo, Shibuya, Jingumae, 5 Chome−27−7, アルボーレ Jingumae 3F
Opening hour: 11:00 to 24:00
(Source:tabelog.jp)

The biggest selling point of this cafe is the large window, you can sit next to the window and observe the surroundings, and meanwhile, you can enjoy the Japanese light meal in this trendy cafe! All the tables and chairs in this cafe are designed by designers. If you are shopping nearby, you can take a rest and have a meal here.
(Source:cafe-de-take.com
Address: 〒150-0001 Tōkyō-to, Shibuya-ku, Jingūmae, 6 Chome−6−2 Harajuku ベルピア 1/F
Opening hour: 12:00 to 22:00 (weekday); 12:00 to 23:00 (weekend)

The Japanese food lovers like to go to cafe for "Food hunting" in Japan. This cafe attracts many dessert lovers to come. Except the 1000 yen meal deal including Japanese burger or braised beef with salad and drink in the afternoon, the hand-made cake and up to 10 kinds of Japanese deserts are very popular too!
(Source:tabelog.jp)
(Source:retty.jp)
(Source:find-travel.jp)
Address: 〒150-0000 Jingumae, Shibuya-ku, Tokyo 5-chome, 11-1
Opening hour: 11:30 to 23:00 (Last order: 22:00)

This cafe looks like the European rural stores. The exotics Le Fee Delice is very popular in Harajuku, you can try the typical French crepe in this cafe. If you are lucky, a handsome French waiter may help you to take order. There are variety of crepe including the salty savory crepe and the dessert sweet crepe. The ingredients are very fresh, the crepe mix is at a high quality, you must feel very satisfied about it!
(Source:tabelog.jp)
(Source:antenna.jp)
Address: 〒150-0001 Tokyo, Shibuya, Jingumae, 5−13−2, パインアンダーフラットB1F
Opening Hour: 10:00 to 22:00 ( Last Order: 21:00); 09:00 to 22:00 ( Last order: 21:00) (Saturday, Sunday and Public holidays)

Cinnamon's Restaurant, is originated in Oaha Island in Hawaii, is the heaven of hot cake lovers in Japan. Since 1985, Cinnamon's restaurant started the business providing different kinds of American hot cakes. They use the special guava syrup. The sweet and sour syrup accompanies with the spongy hot cake. No wonder it won the Hawaiian Food Award before! The egg benedicts from this restaurant has attracted many western breakfast lover too!
5)ZipZap(ジップザップ)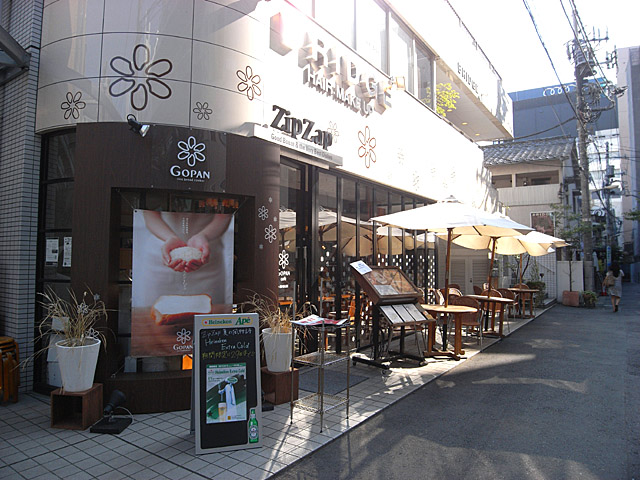 (Source:hamburger.jp)
Address: 〒150-0001 Tōkyō-to, Shibuya-ku, Jingūmae, 6 Chome−9−11 Jingumae Sakai building 1F
Opening hour: 11:30 to 23:00

ZipZap is located at the quiet corner providing an open dining experience to customers. The signature dishes are hamburger and handmade cake! How special is the handmade cake? How come can it be the hottest topic? It is because many Japanese artists order their birthday cake here, the store even draws the portraits on the cake, so cute and considerate!
(Source from:by-s.me)

(Source from:locari.jp)